ST BRENDAN SCHOOL REGISTRATION IS OPEN
Enrollment at Saint Brendan School is now open online for the 2021 – 22 school year. To register your child in any K-8 grade at Saint Brendan School, please go to:
www.stbrendanschool.us
and look under the "new families" tab for the link to new student registration. I encourage each parish member interested in registration to enroll now because we will most likely have a waiting list by February. If you have any questions or would like to schedule a personal tour of our school, please do not hesitate to contact Principal Will Gruber at 614.876.6132 or
wgruber@cdeducation.org
. We look forward to having you as part of the Saint Brendan School family.

WINTER WEATHER ON THE HORIZON!
Please note that our snow contractor only plows the lot when we reach TWO INCHES of snowfall. The parking lot is only pre-treated if it is not raining (the rain would simply wash it away). The parish facilities team will be responsible for keeping the walkways cleared. When weather is cold, please be careful when walking around the campus as it may be slippery in places.
Parish activities remain open if we are at a Level 1 Snow Emergency, but people should carefully consider whether they can safely reach the campus and attend. If a Level 2 Snow Emergency is declared, the entire campus closes, including Mass. We will alert you by Flocknote if this happens. School parents will be alerted by the school via SchoolSpeak of any school closures or delays. The Parish Office remains open during business hours (9 AM to 4 PM) as long as we do not reach a Level 2 Snow Emergency.

PRAYER WALL
Check out our new prayer wall
here
 to leave a prayer request and pray for one on the wall. These can be left anonymously or with your name. Since we cannot physically enter prayers in our book of intentions, this will help us pray for each other and the priests and pastoral staff pray too!

ONE CAMPAIGN UPDATE: NEW & EXISTING NAMED & MEMORIAL GIFT OPTIONS
These gift opportunities provide a lasting symbol of your support.
Adoration Chapel – $500,000
DiPietro Commons Renovation – $500,000 Davidson Road Meeting Room – $400,000 Wellnitz Hall Renovation – $100,000 Warming Kitchen – $30,000
Parochial Vicar's Office – $30,000
St Brendan Statue Plaques – $10,000
To reserve or check availability of the gift opportunities listed, please contact our Parish Development Director, Colleen Speer at 614.876.1272 ext. 238.
All donors will be recognized and honored in a special way. The final recognition display has yet to be determined; however, it will be located in the new gathering space. We will keep donors informed as this recognition display develops.

ANY CHANGES IN YOUR LIFE?
Have you moved recently? Have you switched from your landline to a cell phone as your primary phone? Have you baptized your baby somewhere other than
St Brendan? Have you gotten married? Please take a moment to send us your current information so that we can keep our parish database up to date and accurate. All information can be sent to Dina Harder at dharder@stbrendans.net

COLUMBUS CATHOLIC YOUNG ADULT CONFERENCE 2021
When: Saturday, April 17, 2021 Doors open at 8:30 AM
Where: St John Neumann Catholic Church, Sunbury, OH
Registration is now open. Connect with us!
Website: www.ccyac.org / Email: info@ccyac.org / Instagram: @ccyacohio Twitter: @ccyacohio / www.facebook.com/colscatholicyoungadultconf/
"To empower young adults to transform their communiities through their identity in Christ"

BULLETIN ADVERTISING OPPORTUNITIES AVAILABLE!
Sherry Montell, representing Diocesan, (our Bulletin Publisher) is currently working on the advertising sales for our weekly bulletin. She is renewing present advertisements and seeking new ones. If interested, please contact Sherry directly at 614.301.7444 or smontell@diocesan.com for more information.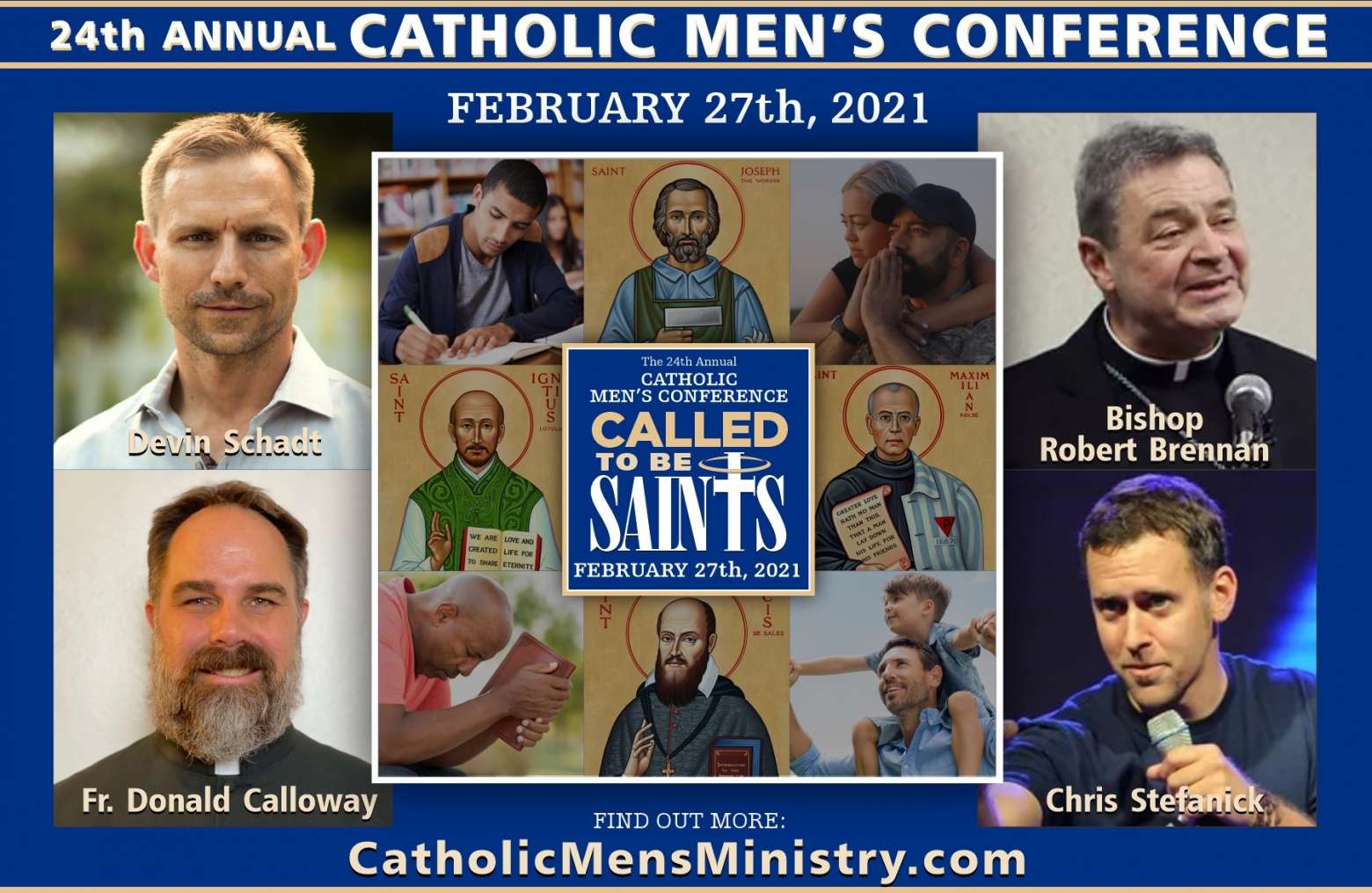 This is an event you don't want to miss! Due to anticipated social distancing limitations for gathering large groups of people together, the 2021 Catholic Men's Conference will not be held at the fairgrounds. Instead, we will gather smaller groups in various parishes throughout the Diocese. For more information on the conference or the Catholic Men's Ministry of the Columbus Diocese, please visit
https://www.catholicmensministry.com/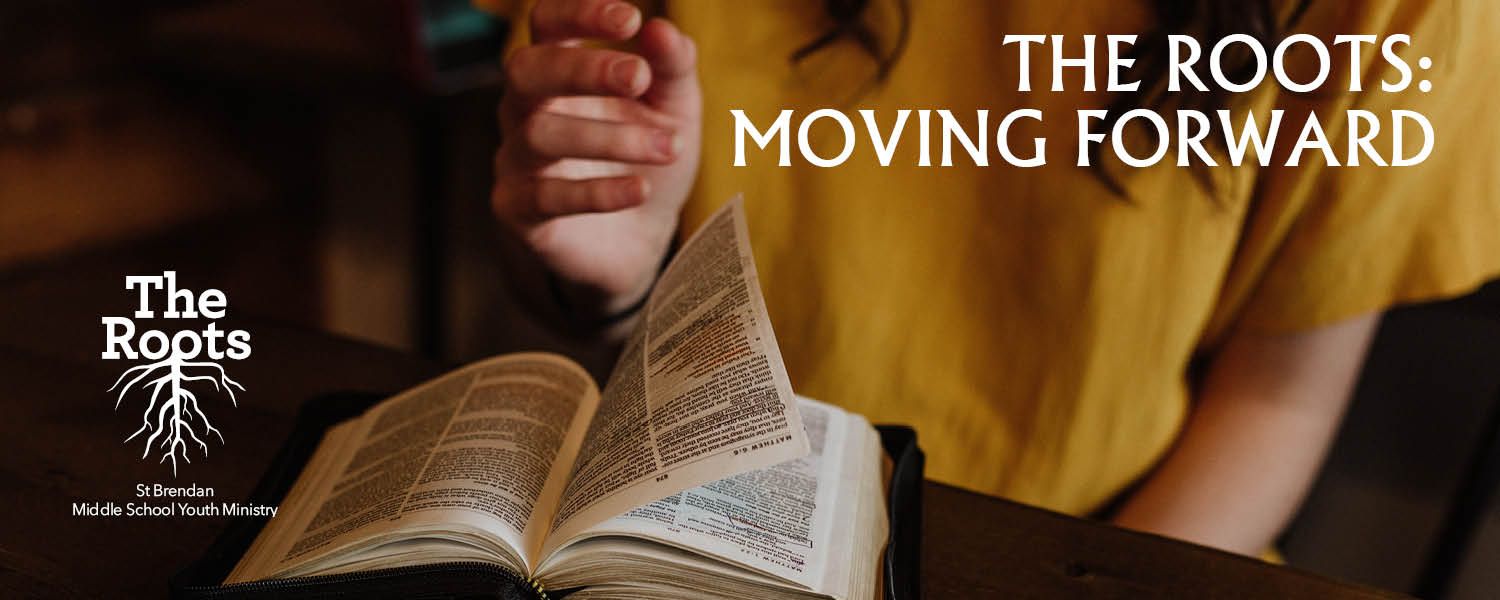 Right now, to keep the fun going in 2021 The Roots is moving to a Small Group ONLY model beginning January 2021 through May of 2021. This model would allow us to meet in small groups of 8-9 Middle Schoolers and 1-2 Core Team Members every Sunday or every other Sunday. This model means we can keep meeting, we can keep praying, and we can keep having so much fun while also meeting on campus in groups of 10 or less. ⁠You or your parent must fill-out a survey to be placed in a small group and continue attending ministry at The Roots.⁠
Survey Link:
https://forms.gle/eXtQm6GbzL4o1Uqg9
***Please note that these small groups would begin meeting in person only when the stay-at-home advisory is lifted and meetings on the parish campus resume.⁠

KNIGHTS OF COLUMBUS MEMORIAL ENGRAVED BRICKS
The St Brendan KofC Council 11208 sponsored 10 Commandments Monument and Memorial Brick Patio have been relocated to the front of Wellnitz Hall. If you would like to have your family or loved one remembered with an engraved brick in the patio, please contact Jerry Abraham 614.579.1357 or
jabraham.alt@gmail.com
for an order form or to get more information.

COVID UPDATE MESSAGE DEC 4, 2020
FRANKLIN COUNTY HAS GONE BACK TO RED LEVEL. THIS LOWER STATUS ALLOWS US TO REOPEN THE PARISH OFFICE. OFFICE HOURS ARE 9 AM to 4 PM.
THE CHURCH REMAINS OPEN. We remain committed to all of you even from a distance. Stay safe and keep trusting Jesus Christ, the King of the Universe.
The following policies are currently effective:
WORSHIP: Worship is at the heart of all that we do. Our current sacramental schedule including Mass, adoration, confessions, and baptisms will remain the same. The 10:45 AM Sunday Mass will continue to be live-streamed on our YouTube and Facebook pages. If you are not coming to Mass please make a concerted effort to participate through the livestream so that we remain united as a family of faith.
ADORATION CHAPEL: The Adoration Chapel is now open, but please remember to wear a face covering, keep socially distanced and sanitize your hands upon entering and exiting the chapel. A maximum of 6 people are permitted in the chapel at any time.
PARISH OFFICE: The Parish Office will continue to be open unless mandatory orders are issued.
MEETINGS: Other than the church and adoration chapel the campus will close at 6PM every day and there will be NO ON SITE meetings other than worship. All on site meetings at the parish are to be moved to virtual participation  or canceled. This includes, for example, Men's Group, Boy Scouts, American Heritage Girls, Bible study, and RCIA.

ATTENTION ALL 55 AND OLDER:
The City of Hilliard is piloting a new, free transportation service for seniors from their homes to many popular destinations like shopping, dining, parks, and CHURCH! 7 days a week, select hours, just call 833-SHARE-33 or visit
https://sharemobility.com/hilliard/
There is a list of destinations, but you can request others within Hilliard not on the list. Click
here
for info.


Did you know that every time you shop at Amazon, St Brendan could receive money back from your purchases? To get started follow this link:
https://smile.amazon.com/ch/31-0678677
. Once you have done that, you can then sign on to your personal account, link it to AmazonSmile and shop away! The parish and school receives a certain percentage from items you purchase. Be sure to bookmark
smile.amazon.com
because you need to log on from there instead of
amazon.com
. We appreciate your support!

WELLNITZ HALL RENOVATION
Wellnitz Hall and offices: I am grateful to Deacon Jim for leading this phase of development in what is now named our Homestead building. In the short term we need to do some demolition upstairs and then transfer additional construction materials from the lower level that we have to store. Once that is done, and while the rest of upstairs is developed, Wellnitz Hall will be cleaned for temporary use. Covid 19 means that there is a longer time frame for this work but we still anticipate the Homestead being finished by next summer, COVID 19, finances etc permitting.


THE MELCHIZEDEK PROJECT & AVOW
NOW MEETING VIRTUALLY VIA ZOOM
We have a new program for young men and women that began at Saint Brendan the Navigator on November 5th 2020.
Both are designed for young men and women 16 through mid-twenties. The groups help them discern whether the Priesthood or Religious Life is something that God is calling them too.
The Melchizedek Project is for young men. It is a national initiative and we are the third place to offer this group in the diocese. The meetings will be once a month. Every other month Fr. Hahn the Vocations Director will join us as well as our own Fr Brown. Zoom meetings are every 1st Thursday of the month at 6:30 pm and will last an hour.
The AVOW discernment group for young women discerning religious life follows the same format and meets on the same night. Zoom meetings run from 6:30 – 7:30 pm. The Polish Dominican sisters will be part of these meetings, as well as one or two lay volunteers.

CONGRATULATIONS & WELCOME DEACON YGLESIAS!
Deacon Doug Yglesias, the newest member of our parish clergy, is a disciple, son, father, husband, and grandfather. He was born and raised in Miami, Florida. Deacon Doug's ministerial journey began with experiencing Christ in youth group when he was 16 years old. His passion is to serve others and accompany them on their journey of faith. Doug loves fishing, endurance sports, and hiking, no matter how far off the beaten path it may be. He and his wife Lisa, celebrating 28 years of marriage, have four children, two daughters-in-law, and three grandchildren, with one on the way.

CAN YOU GIVE ONE HOUR?
To help us keep our beautiful church clean? We have some very dedicated people that joined right back into cleaning in May after the church started to come back from the virus scare, but we have a large parish and with the addition of our new adoration chapel, we need more help. We clean every Monday morning at 9 AM with cleaning windows, pews, altar, sweeping and general house cleaning, nothing heavy. So, if you can give one hour a week or month, this is a great opportunity for all ages, and a wonderful time to spend time with God. For more information, contact Ann McChesney 614.284.2135 or
ann369@wowway.com
or simply show up on Monday, wearing a face cover and ask for Ann or Julie.

ALTER SERVERS, MC'S & EMHC'S NEEDED
Saint Brendan is ready to open up some of our ministries again to those who feel comfortable serving. COVID has changed some of the way we do things, so as we open ministries back up, we will be asking those who serve to receive a simple training to help keep everyone safe. We also need less people to start with because of the restrictions that are in place.
WEEKDAYS:
If you are interested in lectoring, helping to distribute Holy Communion or becoming a weekday sacristan please contact
Fr. Brown
. Some simple training will be required as we take into account COVID requirements.
SUNDAYS:
ALTAR SERVERS will begin to be scheduled through
Jamie Noyes
, our head server. The role of server will be much simpler. Only TWO servers will be scheduled along with the M.C. and social distancing will be maintained. Jamie will send out a Flocknote to find out who is willing to serve before a schedule is put together.
HIGH SCHOOL M.C.'S can also be scheduled with parental permission.
Henry Szabo
, our head M.C. will be in touch to see who is willing to serve.
EXTRAORDINARY MINISTER OF HOLY COMMUNION: At this time we need only one EMHC at each Sunday Mass but it would be good to start including people back in this ministry again. We will be sending out a request this week so that you can show your interest in helping.

ST BRENDAN IS BACK!
Manufactured in Italy, the new statue is made of poured bronze and is over 7 foot tall. Like many of us, 2020 has had an effect on St Brendan. We now feature the image of an older man rooted in place, with the wisdom of many years. The new statue reflects the experience of his voyages (the boat) and his passion for the gospel (the uplifted cross). It also reflects the fact that he undertook his voyages as an older man who was abbot of his community of Benedictine monks (the ring on his finger and his Benedictine robes).
We are moving #ONEstepcloser to completing our work and fundraising for the new construction, so please consider pledging if you haven't done so already. Saint Brendan the Navigator pray for us!

NEW MINISTRY OPPORTUNITY!
Our Livestream Team Needs You!
Our livestream equipment is in place, and we are looking for volunteers to help us produce the Sunday 10:45 AM mass, and other services in the future. Volunteers must be High School aged or older. Knowledge of the order of Mass will be helpful. Will likely work in pairs, at least at the beginning. To volunteer, or for more information, please email Deacon Doug at
DeaconDoug@stbrendans.net
.

COMMUNION VISITS AT HOME
We are now able to offer safe and brief visits to those who are unable to attend Mass due to ongoing illness/mobility issues OR currently identified in the at-risk category for COVID-19. Our trained EMHC's will visit with masks and sanitized hands to provide prayer and the Eucharist, preferably on your porch, garage, or outside area. If it is not possible for you to get outside, the EMHC can briefly enter your home in the entryway to provide communion.
To sign up for these visits, please visit the pastoral care page on the website:
https://www.stbrendans.net/care-and-consolation
and fill out the communion at home form or contact Jennifer at the parish office 614.876.1272 ext 227. Visits will occur at least monthly depending on the number of EMHC's available.
Speaking of needing EMHC's …if you are a registered EMHC or if you would like to be trained to visit those at home for this ministry, we need you to serve with us once a month or more if you are able. Contact Jennifer for all of the details.

TO KEEP IN TOUCH WITH FR ED SHIKINA
Fr. Shikina has been appointed Pastor of Our Lady of Lourdes, Ada and Immaculate Conception, Kenton. Father started his new appointment on Tuesday, July 14, 2020. If you want to keep in touch –
Address:
222 E. Highland Ave.
Ada, Ohio 45810

ATTENDING MASS DURING THE PANDEMIC
ATTENDING:
Numbers in church will be limited. We can only take about ½ of our capacity.
Everyone must follow strict social distancing rules. Only sit in the pews labeled BLUE. Maintain 6 feet between yourself and the next family/individual.
Once we reach capacity no one else will be able to enter.
WHEN IN CHURCH:
People will not be able to chat in the gathering space before or after Mass.
Please wear a mask while in the church.
Please bring your own hand sanitizer to use in church before and after you touch anything. (we have some but our supply is limited.)
The doors will be unlocked 10 minutes before Mass begins for people to come in.
You must sit in the designated seats. Families and couples traveling to church together can sit together but there must be a 6 feet distance between them and others.
You must have a seat in the church, you cannot stay in the gathering space.
The number of people in the restrooms at any one time will be limited to two.
Parents MUST accompany children under 7 to the bathroom and bring them back (this is to ensure they have washed their hands properly, do not dawdle in washroom or gathering space and return to the pew immediately with you. Remember, this is for their safety too!)
The cry room is closed until life returns to normal. Its enclosed environment makes it suitable for confessions but not for multiple families.
DURING THE LITURGY:
There will be no presentation of the gifts and the offertory will be placed in baskets as people leave.
The Sign of Peace will not be restored until the pandemic has passed.
The chalice will not be shared until the Bishop gives permission for it to be restored.
The Communion lines will be altered to single file and the floor marked to encourage social distancing.
Each section of pews will come forward as instructed to receive Holy Communion.
Receiving Holy Communion in the hand is strongly encouraged for the time being. Every time someone receives on the tongue the minister will stop and disinfect their hands.
MUSIC & LIVE STREAMING:
There will be no Missalettes or other literature in church because of the risk from the virus being passed through them.
Screens are fitted to the ceiling, and the music etc. will be projected onto them. There will be new projectors to ensure good visibility on the screens.
Live streaming equipment is installed in the church to replace our current temporary method. This will support older parishioners who may be asked to shelter in place again at a later date, our homebound, and those in our care facilities.
Please remember that if you are not well, are caring for someone who is sick, have underlying health conditions or are concerned about attending Mass you should stay at home.
We will continue to live stream Mass every day and you can make a spiritual communion. The dispensation from the Sunday obligation has been extended.
Please note that live-streaming will still happen at all masses for those uncertain or unable to come out. This will now be a regular feature of our worship together.
People are responsible for maintaining 6ft social distancing when in the church. No stopping in church or the gathering space to chat. Please arrive, pray and then leave. Anything left behind will be disposed of. These restrictions are necessary because we must be able to disinfect the entire church every day. They are designed for your safety. Our great hope is that this will not be needed for too much longer.

ST VINCENT DE PAUL
To help St. Vincent de Paul, click
here
. You will see SVP listed there, and you can make a one time or recurring donation. This is safe, secure and easy for us to process and get the money to SVP quickly. We know that their funds are low right now.

GROW YOUR FAITH FROM HOME!
During this time of isolation, many Catholic companies are providing free faith materials.
Magnificat
is a popular Catholic daily devotional that has now allowed free access for their online editions. Need something for the kids?
Magnifi-kid
is also free online. Go to
us.magnificat.net
for more details. Enjoy!


STEWARDSHIP
As you know, bold steps have been taken to protect public health. This means that our offertory – the major source of income for parish operations – will be negatively impacted. We're encouraging all parishioners to consider online giving to keep St Brendans strong during this crisis.
You can give securely through either a credit card or bank account. Our staff is very willing to walk you through the process. We've set up a special direct link to the giving form at
http://www.tinyurl.com/stbvoyagers
or you can contact the parish office at 614.876.1272 and we can handle it for you. Thank you for continuing to support the parish financially during this crisis.
Please be aware of communications via email or text or possibly even phone calls concerning alternate routing of your offertory. Some phony communications have been received by parishioners who thought that the situation was odd. They had the sense to contact their parish office and, in doing so, discovered that this was indeed a scam. Please do not become a victim to any type of financial scam. If you receive a communication about any financial aspect in relationship to your parish, school, or social outreach, please contact your parish office by phone to authenticate that communication.