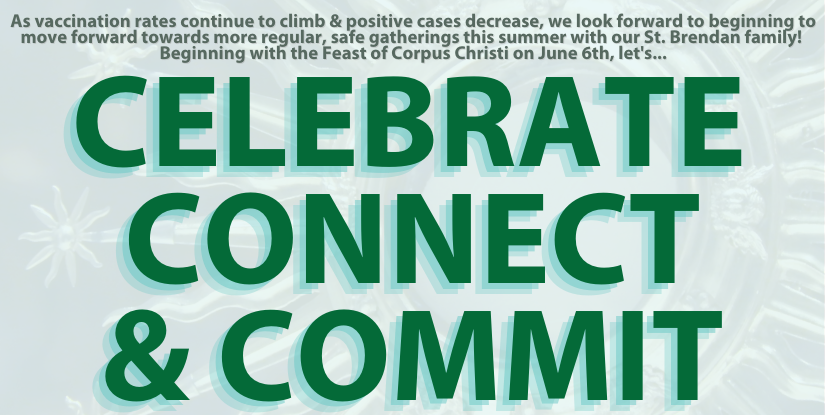 CELEBRATE:
The highest celebration in our Catholic Faith is that of the Mass! The bishops have lifted the general dispensation beginning on the Feast of Corpus Christi (June 5th/6th).  As has always been the case, those who have a serious reason are exempt from attending Mass on Sundays and Holy Days of Obligation even with the lifting of the general dispensation.
Please Note:
Throughout June the overflow seating in the new meeting room will continue to be set up in a socially distanced way so that those who are concerned about close contact have a space that they can feel comfortable in.
LECTORS will no longer be required to use hand sanitizer before approaching the sanctuary.
EMHC – At each weekend mass we will invite additional extraordinary ministers of communion to assist with the distribution of the sacred host, so that there are two distributors at the front. A new schedule will be issued including all liturgical ministers on record. If you do not feel able to resume please let us know and we will suspend your inclusion until the end of 2021. Please note that the distribution of the Precious Blood will not return until the Bishop gives his permission for it to do so even after June 2nd. The same is true for the formal sign of peace).
SERVERS schedule will remain as it is until retraining has been organized this summer. There will be changes to the program to help servers understand the awesome mysteries we celebrate. With the new program any child who has made their first Holy Communion will be eligible to serve. Training will be incremental based on the age of the child with significant milestones marked. If your child no longer wishes to serve please let Jaime Noyes know as soon as possible.
Some other notes:
The POD nursery will be equipped over the summer with new furniture thanks to a generous donation. The nursery will return in August.
We hope to have the homestead meeting rooms (the old office and rectory) up and running by September 1st.
Holy Water will return from June 2nd.
As we begin to resume a more normal way of life, please be respectful of the needs of others. Some people may choose to continue wearing masks for some time, some may want people to not sit right next to them. We were all at different places when the pandemic broke out and that aspect remains with us. Let us show to others the same generous love God has shown to us.
CONNECT:
The parish will be hosting the following summer events to safely gather as a community once again!
June 12-13: After the 5:30 evening Masses on both Saturday and Sunday we will be serving lemonade and popsicles and after the Sunday morning Masses we will be serving coffee & donuts under the covered walkway. Take this time to grab a bite and catch up with those you may not have seen for a while!
*Faith Formation will also have a table in the gathering space with information about the 2021-2022 year, if you have children in grades K-8, stop on by!*
June 20: Outdoor Movie Night in the Wellnitz lot. Movie begins at 7 PM, bring lawn chairs for a comfy seat! Popcorn, candy, & soda will be for sale to benefit youth and young adult programming.
*In case of rain the movie night will be moved to the MPR*
June 27: Kickball Tournament! Grab a group of friends or a few families and put together a team of 8-12 players and join us at Fr. DiPietro park following the 5:30 PM Mass! There will be a $25 buy-in per team with ½ the pot going to the winning team and ½ benefitting St. Vincent de Paul. Click here to register!
*In case of inclement weather the tournament will be cancelled and registration fees refunded!* 
August 13-14: Save the date, the Parish Festival is happening!
COMMIT:
For many of us the time away from various obligations has caused us to rethink our priorities and where we spend our time. As you begin to add activities back into your calendar we ask you to consider the ways you are able to serve at St. Brendan.
Looking for a short-term commitment?
Help serve popsicles & lemonade or coffee & donuts after one of the Masses on June 12th or 13th! Sign up here!
Help to make the Kickball Tournament on June 27th a success and raise funds for St. Vincent de Paul by signing up here!
Wanting to serve on a more regular basis?
Wanting to get involved with, or return to service at, Sunday Liturgy?
As we increase our capacity at Masses, we are in need of greeters & ushers (please contact Deacon Doug Ygelsias to get involved) and EMHC, lectors, altar servers, and MCs (please contact Terri Balsom with your preferred Mass times to serve!)
Interested in serving with young people and sharing the Catholic faith? St. Brendan's faith formation program is looking for volunteers to serve either monthly or weekly, click this link if you're interested in serving this ministry!
Our "Celebration of Life" luncheons serve the families of those who have lost a loved one by providing a meal following the funeral, please contact Jennifer Rice if you are interested in serving this ministry.
Thank you for your willingness to serve our parish family!
---
ST BRENDAN PILGRIMAGE TO HOLY LAND CANCELLED
Before covid hit I was supposed to lead a pilgrimage to the Holy Land in October 2020. Then, as the outlook looked brighter, I had hoped to still lead the pilgrimage this fall but then fell and had my accident. Unfortunately, there is no way that I can lead a pilgrimage at this time due to my medical condition, so I have regretfully decided to cancel the pilgrimage that I was going to lead with Trinity Tours.
Those who signed up to go and still have a reservation are welcome to contact Trinity tours to negotiate either a refund or transfer to another pilgrimage that they are running.
I am sorry for the disappointment but as things stand it just is not possible for me to go.
God bless
Father Bob
---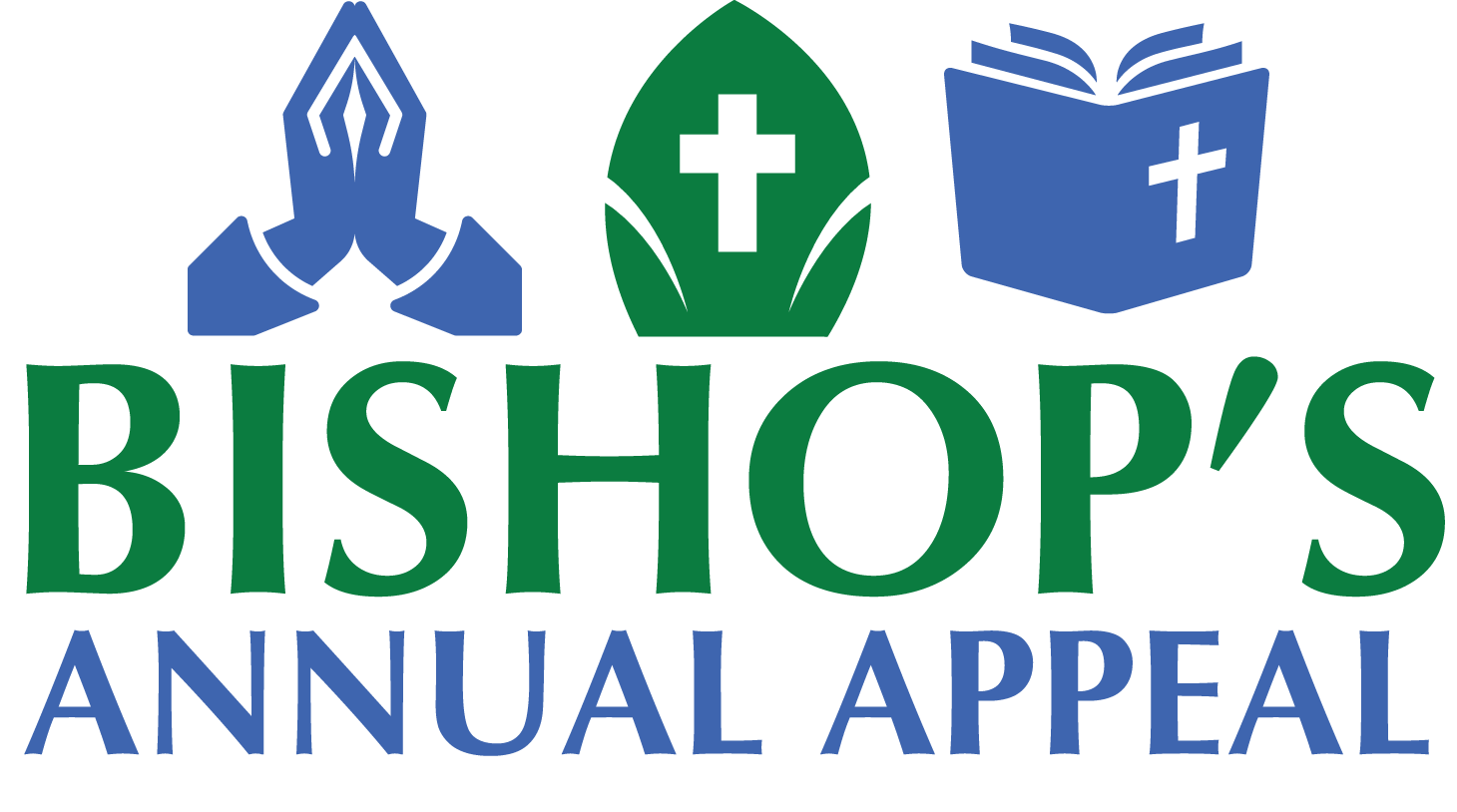 "Living the Joy of the Gospel"
This weekend, St Brendan kicks off the 2021 Bishop's Annual Appeal. This year's theme, "Living the Joy of the Gospel," inspires us, as people of faith, to share joyfully the Good News of Christ to those who most need to feel His love. Through the Bishop's Annual Appeal, we have an opportunity to bring about a positive change in the lives of many of God's people. Our parish has been asked to raise $231,835. We can accomplish this if, after prayerful consideration, everyone gives what they can. Any amount raised over our goal will be returned to our parish to be used in support of our family faith formation program. To make your gift or pledge, please go to
https://www.columbuscatholicgiving.org/make-a-gift-now
or complete the pledge card mailed to you recently. Thank you for your support!
---

CATHOLIC TIMES SUBSCRIPTIONS
This year The Catholic Times is changing the process for the renewal of the Subscription. The Catholic Times will be renewed directly through the Diocese, instead of through St Brendan Church.
You can send a check for $17
payable to Diocese of Columbus – Catholic Times
to their office, 197 E. Gay St., Columbus, OH 43215 or pay by credit card by going to the Diocese website at
columbuscatholic.org/catholictimes
and scroll down on LEFT hand side of menu, click subscription payments. If you have any questions, please do not hesitate to contact Dina Harder at the Parish Office, 614.876.1272, ext. 235.
---
In our busy lives, it can be challenging to find time to pray and exercise daily. Both are essential for us to be fit to carry out the mission God has for each of us. Lori Crock will talk about a counter-cultural approach to awakening and sustaining habits of prayer and movement to help us serve God and neighbor with more energy and zeal.
After the talk, Lori will lead us in a SoulCore session. SoulCore integrates the prayers of the rosary with core strengthening, stretching, and functional movements; inviting participants to nourish body & soul and encourage deeper reflection on the Mysteries and virtues of the rosary. Bring a mat or towel or you can sit in a chair to pray with us. A $10 donation for those who are able is suggested (Lori tithes to the Women's Care Center). For more information or to register, please visit: www.stbrendans.net/womens-groups or email Jennifer at jrice@stbrendans.net
---
RECEIVING HOLY COMMUNION IN CHURCH
I want to share with you some new rules regarding the way that we receive Holy Communion in church.
Over the last several weeks, including the week of the parish mission on the importance of the Holy Eucharist and Adoration, several sacred hosts were found left in the pews. We have also noticed that occasionally a parishioner will break the sacred host and consume half intending to take the other half home with them, possibly for a loved one who could not make it to Mass.
Because The Sacred Host is the Body, Blood, Soul, and Divinity of our Lord Jesus Christ I have a responsibility to ensure that those receiving Holy Communion do so with reverence and in our presence. So please, when coming forward to receive Holy Communion be sure to consume the Sacred Host in front of the minister distributing to you. The clergy and extraordinary ministers have been instructed to make sure that the Sacred Host has been consumed in its entirety BEFORE a person moves on.
God bless,
Fr. Bob
---
MONEY COUNTERS NEEDED!
We are in need of additional money counters on Monday mornings at 9 AM. If you are able to volunteer, please respond to Tom Kollar, tkollar@stbrendans.net or call the parish office at 614.876.1272.
---
MINISTRY OF CARE and CONSOLATION
We are slowly returning to certain facilities in our boundaries to bring the Eucharist! If you have not responded to the recent Flocknote to let us know if you are ready to return to ministry, please email Jennifer with your intentions by May 15. If you are interested in being trained to serve as an EMHC to the sick in the future, also contact Jennifer.
Grief support is available right here in your parish! Many have experienced losses of loved ones in the past year. We will be offering a 6-week grief support group this summer with prayer, reflections, education, and sharing of our stories, triumphs, and challenges. Please call or email Jennifer if you are interested as we set up dates and times. jrice@stbrendans.net
---
PLEASE JOIN OUR HOSPITALITY MINISTRY!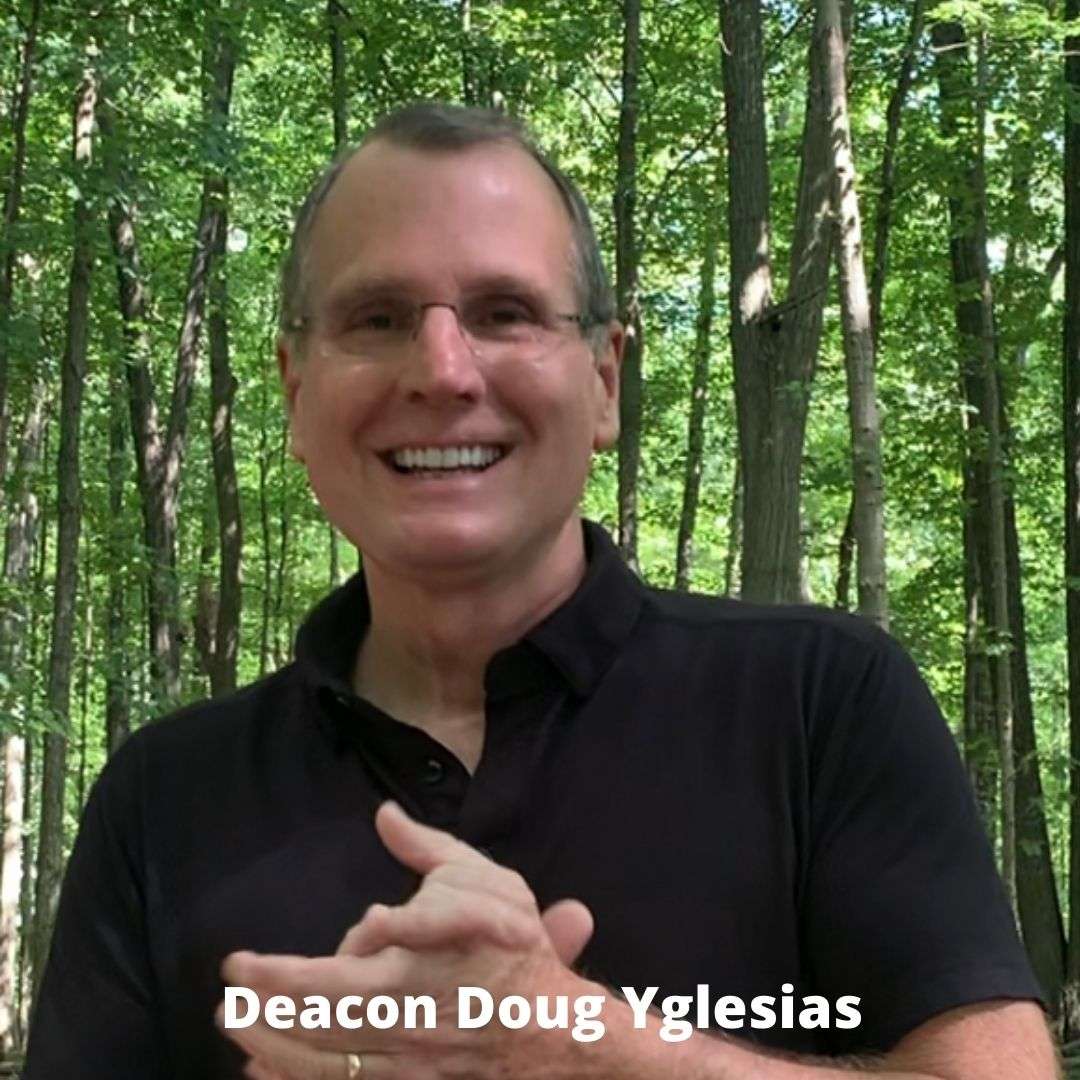 As we see more and more of our parish family coming home to Mass, we need to keep in mind the three most important facets of community:
1. Hospitality
2. Hospitality
3. Hospitality
As St. Paul says we are different parts of the one body. YOU are part of the body of Christ. If you have been a Eucharistic Minister, Lector,  Usher, if you were part of the former welcome ministry, MC, or altar servers; We need you back!
Before each Mass or after each Mass, please stop by our little table (in the gathering space or if weather permitting outside) and let me know if you are ready to begin your ministry again. If you are not ready yet we totally understand, but if you are we need to update your information. If you are on the fence about whether to serve, I ask you to pray about it.
I look forward to speaking to you this weekend, before or after Mass.
In Christ,
Deacon Doug Yglesias
---
WE ARE UPDATING OUR FLOCKNOTE GROUPS!
Currently, we send Weekly Flocknotes, Words of Encouragement, Sunday Liturgy Aids, and Parish Information, and Announcements to everyone registered with any St Brendan Flocknote group.
This week, we will be creating unique groups for specific types of communication, we will auto-add everyone currently subscribed to these groups. But, you will have the option to personalize which groups you remain in and make sure you are receiving the information that is important and pertinent to you, without overwhelming your inbox!  Moving forward, we will only use the "Everyone" feature to communicate urgent matters.
---
PRAYER WALL
Check out our new prayer wall
here
 to leave a prayer request and pray for one on the wall. These can be left anonymously or with your name. Since we cannot physically enter prayers in our book of intentions, this will help us pray for each other and the priests and pastoral staff pray too!
ONE CAMPAIGN UPDATE: NEW & EXISTING NAMED & MEMORIAL GIFT OPTIONS
These gift opportunities provide a lasting symbol of your support.
Adoration Chapel – $500,000
DiPietro Commons Renovation – $500,000
Davidson Road Meeting Room – $400,000
Wellnitz Hall Renovation – $100,000
Warming Kitchen – $30,000
Parochial Vicar's Office – $30,000
St Brendan Statue Plaques – $10,000
To reserve or check availability of the gift opportunities listed, please contact our Parish Development Director, Colleen Speer at 614.876.1272 ext. 238.
All donors will be recognized and honored in a special way. The final recognition display has yet to be determined; however, it will be located in the new gathering space. We will keep donors informed as this recognition display develops.
---
ANY CHANGES IN YOUR LIFE?
Have you moved recently? Have you switched from your landline to a cell phone as your primary phone? Have you baptized your baby somewhere other than St Brendan? Have you gotten married? Please take a moment to send us your current information so that we can keep our parish database up to date and accurate. All information can be sent to Dina Harder at dharder@stbrendans.net
---
BULLETIN ADVERTISING OPPORTUNITIES AVAILABLE!
Sherry Montell, representing Diocesan, (our Bulletin Publisher) is currently working on the advertising sales for our weekly bulletin. She is renewing present advertisements and seeking new ones. If interested, please contact Sherry directly at 614.301.7444 or smontell@diocesan.com for more information.
---
KNIGHTS OF COLUMBUS MEMORIAL ENGRAVED BRICKS
The St Brendan KofC Council 11208 sponsored 10 Commandments Monument and Memorial Brick Patio have been relocated to the front of Wellnitz Hall. If you would like to have your family or loved one remembered with an engraved brick in the patio, please contact Jerry Abraham 614.579.1357 or
jabraham.alt@gmail.com
for an order form or to get more information.
JOIN THE KNIGHTS FOR FREE!
The Knights of Columbus is the largest Catholic Fraternal organization in the world with over 2-million members worldwide. St Brendan Knights of Columbus Council 11208 has been serving our parish for over 28 years. We serve our God, our Parish, our Pastor, our Families, and our Community. We participate in numerous charitable functions throughout the year in and around Columbus and Central Ohio.
If you join the Knights of Columbus between now and June 30, you will receive a 1-year FREE membership! There's no obligation!
Our meetings will be on April 28, May 26, and June 23, at the new meeting rooms at the church starting at 7 PM. Please join us at one of our upcoming meetings to find out how belonging to the Knights of Columbus can benefit you!
For more information, contact Fred Kerner 614.761.9048, 614.822.0954, or joc93@yahoo.com
ATTENTION ALL 55 AND OLDER:
The City of Hilliard is piloting a new, free transportation service for seniors from their homes to many popular destinations like shopping, dining, parks, and CHURCH! 7 days a week, select hours, just call 833-SHARE-33 or visit
https://sharemobility.com/hilliard/
There is a list of destinations, but you can request others within Hilliard not on the list. Click
here
for info.
---

Did you know that every time you shop at Amazon, St Brendan could receive money back from your purchases? To get started follow this link:
https://smile.amazon.com/ch/31-0678677
. Once you have done that, you can then sign on to your personal account, link it to AmazonSmile and shop away! The parish and school receives a certain percentage from items you purchase. Be sure to bookmark
smile.amazon.com
because you need to log on from there instead of
amazon.com
. We appreciate your support!
---
WELLNITZ HALL RENOVATION
Wellnitz Hall and offices: I am grateful to Deacon Jim for leading this phase of development in what is now named our Homestead building. In the short term we need to do some demolition upstairs and then transfer additional construction materials from the lower level that we have to store. Once that is done, and while the rest of upstairs is developed, Wellnitz Hall will be cleaned for temporary use. Covid 19 means that there is a longer time frame for this work but we still anticipate the Homestead being finished by next summer, COVID 19, finances etc permitting.
---
CAN YOU GIVE ONE HOUR?
To help us keep our beautiful church clean? We have some very dedicated people that joined right back into cleaning in May after the church started to come back from the virus scare, but we have a large parish and with the addition of our new adoration chapel, we need more help. We clean every Monday morning at 9 AM with cleaning windows, pews, altar, sweeping and general house cleaning, nothing heavy. So, if you can give one hour a week or month, this is a great opportunity for all ages, and a wonderful time to spend time with God. For more information, contact Ann McChesney 614.284.2135 or
ann369@wowway.com
or simply show up on Monday, wearing a face cover and ask for Ann or Julie.
ALTER SERVERS, MC'S & EMHC'S NEEDED
Saint Brendan is ready to open up some of our ministries again to those who feel comfortable serving. COVID has changed some of the way we do things, so as we open ministries back up, we will be asking those who serve to receive a simple training to help keep everyone safe.
WEEKDAYS:
If you are interested in lectoring, helping to distribute Holy Communion or becoming a weekday sacristan please contact
Fr. Brown
.
SUNDAYS:
ALTAR SERVERS will begin to be scheduled through
Jamie Noyes
, our head server.
HIGH SCHOOL M.C.'S can also be scheduled with parental permission.
Henry Szabo
, our head M.C. will be in touch to see who is willing to serve.
EXTRAORDINARY MINISTER OF HOLY COMMUNION: We will be sending out a request this week so that you can show your interest in helping.
TO KEEP IN TOUCH WITH FR ED SHIKINA
Fr. Shikina has been appointed Pastor of Our Lady of Lourdes, Ada and Immaculate Conception, Kenton. Father started his new appointment on Tuesday, July 14, 2020. If you want to keep in touch –
Address:
222 E. Highland Ave.
Ada, Ohio 45810
---
ST VINCENT DE PAUL
To help St. Vincent de Paul, click
here
. You will see SVP listed there, and you can make a one time or recurring donation. This is safe, secure and easy for us to process and get the money to SVP quickly. We know that their funds are low right now.

STEWARDSHIP
As you know, bold steps have been taken to protect public health. This means that our offertory – the major source of income for parish operations – will be negatively impacted. We're encouraging all parishioners to consider online giving to keep St Brendans strong during this crisis.
You can give securely through either a credit card or bank account. Our staff is very willing to walk you through the process. We've set up a special direct link to the giving form at
http://www.tinyurl.com/stbvoyagers
or you can contact the parish office at 614.876.1272 and we can handle it for you. Thank you for continuing to support the parish financially during this crisis.
Please be aware of communications via email or text or possibly even phone calls concerning alternate routing of your offertory. Some phony communications have been received by parishioners who thought that the situation was odd. They had the sense to contact their parish office and, in doing so, discovered that this was indeed a scam. Please do not become a victim to any type of financial scam. If you receive a communication about any financial aspect in relationship to your parish, school, or social outreach, please contact your parish office by phone to authenticate that communication.