8th ANNUAL ST. BRENDAN'S MEN'S RETREAT
Friday, May 20 – Sunday, May 22, 2022,
"Foundations in our Catholic Faith"
Retreat Director: Father Tom Hart-O.S.B.
Cost:$170.00: $50 Deposit due with registration; balance due not later than May 6, 2022
Pay online here or download the pdf and pay by check here
Questions: Call Gerry at (614) 946-8117 OR email: Gerryliz90@gmail.com
Retreat Location: Maria Stein Spiritual Center: 2365 St Johns Rd., P.O. Box 95, Maria Stein, Ohio 45860
What to Bring to the Retreat:
Casual attire is appropriate for the weekend.  Please bring your own toiletries and any medications.  Accommodations are private rooms with bath.  Bed linens and towels provided.  You are encouraged to bring a Bible, prayer books or other reading materials for your use and study aids.  You may also wish to bring a Rosary and/or other prayer aids.
Why should I attend a retreat?
To experience more deeply the power and grace of the sacraments of Reconciliation and Eucharist.
Awaken, renew and grow your spiritual connection to Jesus and your faith through fellowship with other men.
To get away from the daily stresses and distractions at home to focus on God.
Spend time in quiet and prayer.
To get away from the daily news cycle and social media
Relax and enjoy the warm spring weather in the beautiful surroundings of Maria Stein
St Brendan Men's Retreat 2022
Friday, May 20 – Sunday, May 22, 2022 "Foundations in our Catholic Faith"
---
St Brendan Men (SBM) is the all-encompassing ministry for all the men in the parish. SBM helps the men of the parish to grow in their faith and discipleship of Christ through Bible studies, faith-sharing, and fellowship groups.
Saint Brendan Men's (SBM) ministry invites all men of the parish to join us for faith and fellowship. Just show up!  The following session is currently being offered: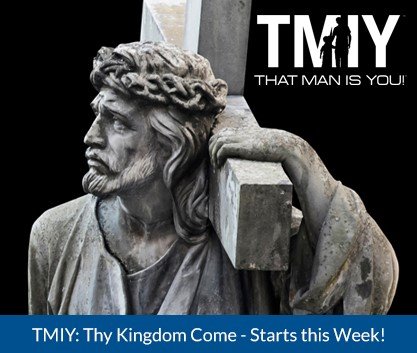 Jesus did not say to the Jews, "I've come to save you from Roman oppression and taxation." Christ did not promise a worldly kingdom. In fact, He said, "In the world you will have tribulation … yet I have overcome the world … My kingship is not of this world … My kingdom is in your midst … My kingdom is within you!"
The
 ST BRENDAN MEN'S GROUP
 returns this 
Saturday, September 18
 for 
Thy Kingdom Come
 from 
That Man is You
. Join us in the Davidson Rd Meeting Room A between 6:30 and 7 AM for light food and coffee; followed by the program from 7 to 8 AM. All men are welcome! View the trailer at: 
https://youtu.be/fbNcWE-km4c
---
Saturday Men's Group
Typically involves a video series and discussion.
DATES: Saturday mornings
TIME: 7 – 8 AM (virtual room opens between 6:45 – 7 AM)
WHERE: Zoom
For more information check our Facebook page at St. Brendan Men's Ministry or contact:
---
Men's Retreat
An annual day of retreat and reflections for the men of the parish which is prepared by the men of the parish.